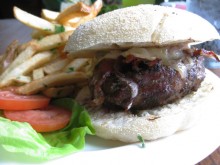 On a cold, wet afternoon, I was hankering for some lunch when I saw a beacon of hope in Culver City. No, not just any beacon, but a restaurant that was actually called Beacon. This name was just so similar to bacon that I had to try it out. Well, also I had heard some pretty good things about the place. The lunchtime crowd was pretty big, but my girlfriend and I still found a table pretty easily. Beacon was an interesting blend of Asian and American fusion, featuring dishes like "black" edamame (which sounds like an even scarier version than regular edamame) and Miso Braised Short Ribs. By far the most confusing part of the menu was figuring out which dishes were salads and which were sandwiches, since they both fell under the header of "Salads and Sandwiches."
Also falling under the banner of "Salads and Sandwiches" was their Grilled Half-Pound Burger. Now this was an unconfusing dish, and despite some heavier unvegan alternatives, I thought a burger would be a great lunch. It came with carmelized onions, Nueske bacon, gruyere cheese and sweet soy glaze to get that Asian touch. I asked if it came with anything else and the waiter told me it didn't, so I simply ordered it without the carmelized onions.
When will these waiters learn? When my burger came, I found that it also came with lettuce and tomato. These pests were immediately dispatched to the outer rim of my plate as I cursed the unfortunate creature that decided it was appropriate to mix vegetables with their meat. With those removed, I got to take a look at the real burger. The thing was quite big and far more rotund than any burgers I've had in a long time. The bun was incredibly white, but looked like it had a great texture. I bit in and was surprised at how juicy the burger was. The bun had a nice, crisp taste and the bacon was delicious as always. The sweet soy glaze was quite subtle, but a welcome addition to the burger. The biggest issue I had with this burger was the bun itself. Although the bun played a good role in not overwhelming the burger, it was wholly unable to store all the juices coming off of the meat. This made the end of the burger pretty difficult to eat without busting out a fork.
Overall, though, this complaint is pretty small when considering I had eaten a pretty good fusion burger.  Often burgers are thrown on menus like this to please people who simply want to eat American food at an ethnic restaurant, but this burger did a great job of keeping with the general atmosphere of Beacon.