While thousands of fools were waiting in the long lines of the LA Street Food Festival to get the same food they could get any night from those Twittering food trucks, my buddy and I made a great decision to head for a different part of downtown LA. This was the Grand Central Market, a glorious collection of restaurant stalls, produce vendors, butchers and more. Almost dead center in this gem of a market was a Mexican place called Ana Maria's. We took a page out of my Asian handbook and decided that since this place had the longest line, it had to be the best.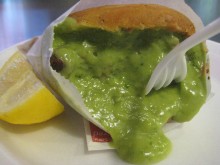 After strolling around the other aisles, we hopped into Ana Maria's line and got a glimpse of a great looking dish called a gordita. Not at all related to the gordita crunch that fills my stomach and haunts my dreams, this seemed to be a more authentic gordita. This seemingly small food was usually filled with a choice of meat, beans, guacamole, tomatoes, onions, cilantro, lettuce and sour cream. That was a whole lot of food to worry about, so to simplify things, I ordered one with just carne asada, beans and guacamole. I paid my $3.50 and waited for the nice man behind the counter to prepare my unvegan gordita.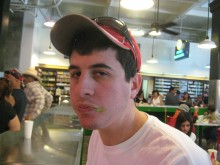 When it was ready, the thing was just oozing with meaty goodness. $3.50 was a small price to pay for the size of this gordita. I was happy that despite my unvegan order, the thing was still packed as much as a gordita with those vegetable fillers. The guac was kind of viscous, which made my first bite a big green mess. But that first bite sure was delicious. Each bite made the gordita fall apart just a little more, but it was worth it. It came with a fork for a reason.
At first, I had ordered the gordita because it seemed small and I would be able to order more food from a different stall, but by the time I was done, my stomach was heavy and there was no room for more. That gordita truly did me in and was certainly the cheapest non-fast food lunch that I have ever had fill me up like that. Ana Maria's in the Grand Central Market was certainly a great decision with very accommodating workers. i know next time I make it t the Grand Central Market I'm going to want to try something new, but it will be very hard to pass up another stop at Ana Maria's.