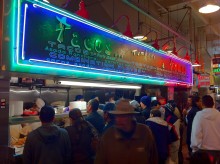 After my first time at Grand Central Market in Downtown LA, I knew I had to go back. Fortune smiled on me over the weekend and brought me back to that special place that makes you feel like you just entered a market in Mexico. Honestly, I've never been to a market in Mexico, but in my mind, this is what it's like. Although I enjoyed my food from Ana Maria's, this time I once again went for a stall that looked crowded. I found Tacos…Tumbras a Tomas.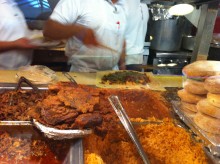 Rather than a line, there was just kind of a mass of people ordering. I stationed myself where I thought would be best and waited for a few people before one of the friendly guys behind the counter took my order. Having seen a couple other people walk away with burritos ($5.50), I decided that was what I needed and ordered one with carne asada. The guy told me it came with beans, rice, cilantro, salsa, onions and the meat. I chose the hot salsa, asked for it without onions and was tempted to get some cheese with it, but having eaten cheese for breakfast I decided against it.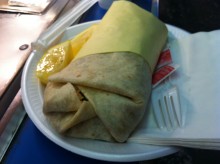 Within moments, my massive burrito was ready. This thing would make a Chipotle burrito its bitch. For real.
I found a stool to eat it and tore into some seriously delicious burrito fillings. The ingredients had all mixed together in the burrito, so each bit was an amalgam of flavor. I much preferred this to those burritos where you have to take about six bites to get each flavor in. The asada was juicy and although every once in a while I came across a dried up burned piece, the majority was pretty great. National Casino Review – https://i-casinos.net/casino/national-casino/ The hot salsa wasn't terribly spicy, and I wouldn't have minded more of a kick, but it was still pretty good and added some nice flavor to the beans and rice.
About 3/4 of the way through, I couldn't handle another bite. That doesn't happen very often. Usually in the battle of unvegan versus burrito, the unvegan wins, but on this day the victory belonged to the burrito. Nonetheless, it was a battle I enjoyed losing.
So once again I must thank the huddled mass of people in Grand Central Market. So far they have not led me astray.