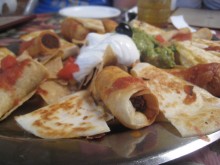 Surprisingly close to Poquito Mas in North Hollywood, there is a restaurant called Mucho Mas. I'm not sure which came first or if there is some sort of rivalry between these two similarly, yet oppositely named restaurants. Whatever the case, a work lunch took me off to Mucho Mas and I was eager to see if mucho was better than poquito.
By the time I arrived, a good amount of my coworkers were seated at the outdoor patio are and an appetizer platter had already been ordered. Fortunately it was unvegan-friendly. It came with cheese quesadillas, beef flautas, beef taquitos, chips, beans, guacamole and sour cream. It was a delicious way to start out the meal and I could only hope that my main course would be as good.
As for that main course I speak of, I decided to order the Burrito Especial ($10). It came with beef, cheese, "delicious sauce" and beans. It was also topped with sour cream and guacamole. I asked what the "delicious sauce" was and was told it was some sort of ranchero sauce. It also came with rice and beans. When it came, it looked pretty beautiful on the surface, even though there were some tomatoes and a stray olive strewn about. Nonethless, there seemed to be cheese covering half the plate and it was still bubbling, which seemed to make up for the veggies. Beneath the surface, though, I found signs of even more vegetables. Cutting into the burrito, some more tomatoes were revealed and after a few bites of the rice I found bits of green beans. It was strange and had me worried about what might lie within my next bite.
Fortunately, those little bits of tomato in my first slice of burrito were also the last little bits. From then on, the burrito was simply stuffed with beef. Apparently Mucho Mas likes to put most of the ingredients outside of their burritos. This was fine by me, since it all mixes together in my mouth anyway.
By the time I finished the burrito, I was one stuffed unvegan. The beef itself was pretty tasty, but also really heavy. I probably could have split the meal and been just as satisfied, with the benefit of not falling into a food coma for the rest of the afternoon. The delicious sauce was tasty, but definitely not life-changing. In the end, Mucho Mas wasn't the best Mexican food I've ever had, but still a pretty good meal. If only they hadn't thrown vegetables around my dish, they could have been even better.