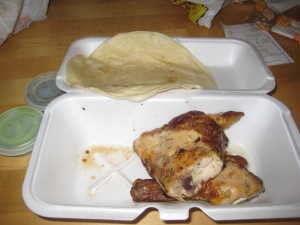 Not to be outdone by the free grilled chicken giveaway at KFC, El Pollo Loco decided they were going to give away some free chicken of their own on April 28th. Rather than simply giving away a free drumstick, El Pollo Loco jumped to the next level by giving away a drummie, a thigh, two tortillas and, of course, salsa from the salsa bar was included. There was a catch, however, that you had to say "I wanna taste the fire" when you ordered. Being my shameless self, I had no trouble proclaiming my desire for fire when I reached the front of the long line.
Within a few minutes, I had received my food. They were working like an assembly line in the back of that restaurant, giving them the edge on KFC for timeliness. When I opened my styrofoam box, I have to say I had low expectations. Although I had never had chicken from El Pollo Loco, I did have a disappointing experience with their regular Mexican food.
I sliced off the pieces of chicken from the thigh and put them in the tortilla. Then I took my two sauce choices, spicy avocado and salsa de arbol and poured them on top to make a sort makeshift hobo burrito. I bit in and was pretty happy with what I got. The chicken tasted a lot better than KFC's grilled chicken, and it was great that El Pollo Loco really went all out with their free chicken offer. If I'm ever in the mood for grilled chicken from a fast-food restaurant, my choice will have to be El Pollo Loco.
PS: The Free Food Rating is different from my regular rating, since I went to El Pollo Loco solely for the free option and all food tastes better when it's free.