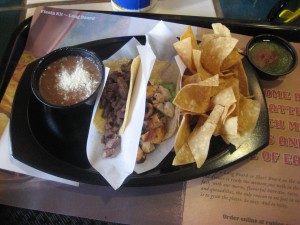 In a world crumbling under the pressure of mounting recession and potential depression, deals can be found aplenty. Well, that is assuming you still have enough money to eat. When I went to Rubio's in Marina Del Rey, they were offering up a little recession combo that I decided to take advantage of. This was two street tacos, chips, beans and a 20 oz. drink for only $5.
The choice of taco innards was up to me, so I got one with steak and one with chicken. They came with guacamole and an unfortunate mix of onions and cilantro. I would have liked the cilantro, but it was all or nothing and I couldn't risk having onions on my tacos.
The street tacos were similar to what one might get from a taco truck. No frills and served just the way that I would expect to find tacos in Mexico.
Rubio's also has a delicious little salsa bar, which is always a delightful opportunity for me to try to make a super salsa. On this particular day, my super salsa attempt was the salsa verde with a dash of chipotle pepper salsa. A good mix, to be sure, but still not the best I can do. Salsa perfection is a difficult process and I fear I will never achieve it.
Despite the relative cheapness of my meal, I feel like I could have gotten more food for the price that I paid. Maybe another taco? Or even rice? One more little treat would have greatly aided me in my personal recession…