My quest for challengers to the Chili John's and Coney Dog empire of LA chili led me to Chili Addiction in West Hollywood. Their menu of insane chili concoctions really pulled me in the first time I saw their menu online and I really thought I had found myself a contender. I convinced my buddy to give it a try with me, both for company and so we could get multiple things to test out.
Upon arrival, we tested out a few different chilis. The nice thing about the place is that they have a rotation of different chilis, and offer 6 up fresh daily. The best of the day we were there was the Texas Filet. Billed as pretty spicy, it had a bit of a kick to it, but really nothing too potent. I decided to get this with their chili cheese fries, and then a side of mac and cheese, while my buddy opted for their Truffle Burger (which had caramelized onions and truffle aioli). The wait to get our food was far longer than expected, especially considering the simple things we ordered, but we were brought out some chips while we waited. These chips had a great consistency, but had been greatly over salted and I could only take down a couple before screaming for water.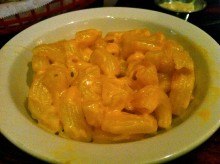 When the meal did come, the chili cheese fries and burger looked mighty tasty. The mac and cheese, though, looked really basic. As it turned out, this book matched its cover. To say that the mac and cheese wasn't good would be a lie. But to say I could make better mac and cheese from a box in my kitchen would not be a lie. I hoped the rest of my food would fare better.
Which brings me to the burger. Of course, I scraped the onions off of my half and got to work with the remainder. To my surprise, the burger was really quite delicious. The aioli was pretty lacking in truffle, but still provided a nice little mix of flavor to an otherwise well-cooked and executed patty of meat. It had been cooked medium rare, and despite having a pretty thin grind turned out really well.
Finally, I took on the fries, which wound up to be a pretty big disappointment. The chili was as good as it had been when I tasted it, but it simply did not mesh well with the fries. This wasn't because they became soggy, over salted or anything, so I chalked this up to being good chili that simply did not go well with fries. I didn't know such a thing existed, but Chili Addiction proved it to be true.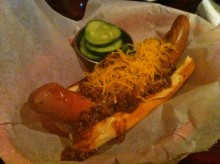 At this point, I was not content to be done eating. In true unvegan fashion, instead of opting for a dessert, I decided to order some more meat. This time my meat sense took me to their Chili Cheese Dog. Once again, I went for their Texas Filet chili and hoped it would go nicely with the hot dog. It didn't. Was I doing something wrong? Was I being punished somehow? No, this was simply a case of a restaurant trying to do too much. This chili simply did not play well with others. It would have been better suited in a bowl on its own, maybe with something like pasta or a flat bread that would only enhance the flavor and not compete with it. Oh and did I mention the dog came with pickles? They were separated out into a little cup, but I would be lying if I said their presence at my table didn't bother me.
As it was, I suppose if I am looking for a simple bowl of chili, I may make my way back to Chili Addiction, but likely as not I would head to Chili John's or Tub's Chili, where they know exactly what they're doing. For burgers, though, I wouldn't mind revisiting Chili Addiction, but I will have to get over the fact that best thing a chili place had to offer me was a Truffle Burger that didn't even taste like truffles.