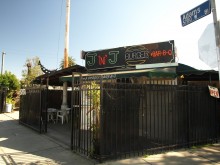 The Eagles once wrote "If you call some place paradise, kiss it goodbye," so it is with great trepidation that I roll out my review here. The meaning I have always taken from that line is that if you tell people about a great place, that place will cease to be great because more people will go there and ruin the experience. On the other hand, I feel the need to tell the world about J "N" J Burger and Bar-B-Q and hope that this review will not kill paradise, but simply give it more customers.
To many, Culver City is only downtown Culver City, a place of shiny newish restaurants, a couple of posh bars and deep gentrification. But Culver City is bigger than that, and whenever a city is big, it is bound to have a "questionable" area. In Culver City, that happens when you cross over to Adams Boulevard, a street that runs through a lot of LA and is synonymous with sketch. Yet, going to J "N" J is not simply sketchy (with its well-gated shack), it is like crossing into some back woods part of Louisiana. Mind you, I've never been to Louisiana, but the back area of J "N" J where you order bar-b-q (the front register is for burgers and grill items not associated with bar-b-q) is how I've always pictured it. Back there is a pile of wood from the lumber place next door, a locomotive used for smoking and a man hanging out on a lounge chair whose sole purpose seems to be to answer when you ask questions like, "How many ribs come in the pork rib lunch?"
I'm not sure I could have been more excited about this meal, and while the burgers in the front of the place, specifically the JNJ 4 Finger Burger (2 patties, 2 hot dogs, 2 slices of cheese, 3 slices of bacon and an egg) intrigued the hell out of me, I couldn't shake the feeling that the rest of the menu reminded me of the countless little burger shops strewn about LA that are good, but rarely amazing. On the other hand, LA isn't exactly known for bar-b-q and J "N" J just felt like the right place to get it. Plus, I figured if the bar-b-q was awesome, I would be back to tackle that burger another day.
I decided to order their baby back ribs lunch, with was $8.25 and came with baked beans or potato salad and two slices of bread. I went with baked beans, then ordered white bread when I was given the option of wheat. As for sauces, they offered mild, hot or mixed. I asked the woman if the hot was really hot and when she nodded her head I opted for the mixed. To top it all off, I got a side of mac and cheese.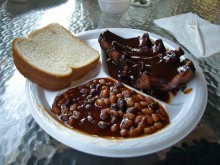 After ordering, we headed out to the side of the place, where they had some plastic patio seating set up like those I had in my backyard growing up. Before long, our ribs were brought out on some sectional styrofoam plates and looked nothing short of amazing. I could only hope they tasted as good as they looked. As far as money-to-rib size value, my buddy had done much better with a $6.00 set of pork ribs, but my baby backs were certainly nothing to complain about, especially when it came to taste. For the must part, these succulent bits of meat fell right off the bone and any gnawing at the bone that I did was a direct result of me just trying to find any more juicy morsels of meat. The meat took on a delicious smoky taste that only tasted better because of the scent of the freshly chopped cedar next door.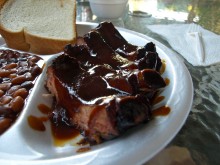 The sauce was also quite impressive. I was glad I went with mixed on my first try, but if this was truly a 50/50 blend of mild and hot, I could handle the hot without a problem. The sauce had a great blend of sweet and spicy, but also a hint of smokiness that really made it taste as though this individual batch had been custom-made for my ribs and mine alone. Of course, this was not the case, but it sure tasted that way.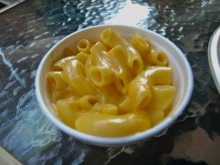 The mac and cheese made for a nice addition to the meal, and I am glad I got it in addition to the baked beans. This is not to say anything bad about the baked beans, which were delicious, but simply to say that the mac provided a nice balance to the bar-b-q flavors. It wasn't too special in any regard, but certainly had no trouble filling its role as a bar-b-q sidekick.
If J "N" J is one of LA's best-kept secrets, that secret is officially out. I'm telling everyone about this place, whether they like bar-b-q or not. I'm not even sure I ever need to go to Louisiana now, because I simply can't imagine it being better than this.