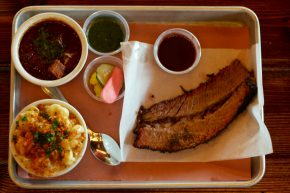 There's been a tremendous growth in LA's BBQ scene in the past couple of years and one of the restaurants that the growth has brought us is Maple Block in Culver City. Maple Block is definitely on the trendier side of BBQ, but the interior smelled like deliciously smoked meats and the guy that ran the place walked us through the menu to make recommendations.
The price was a bit high, so I stuck with a single meat plate, which came with two sides. For the meat I chose brisket and for the sides I snagged mac and cheese and brisket chili (because you can't get enough brisket). It also came with pickles, which I didn't notice at first on the menu, but was happy to see that they came in a little cup when my food arrived.
Like Bludso's, I had the choice between lean and fatty brisket and I chose the fatty. Despite this, I was kind of surprised at the amount of meat that was provided with my platter. It was dwarfed by the sides, which is a good thing because they rescued the plate. This is not to say the brisket was bad. In fact, it was pretty solid. It has the right amount of smokiness to make sauce an option and was pretty tender as well, with a nice peppery crust. But it didn't blow me away like some other briskets have and there just wasn't enough of it.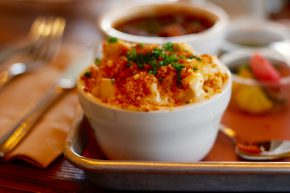 I was really impressed with the mac and the chili though. The mac was creamy, flavorful and crispy in all the right places, while the chili may or may not have had more brisket in it than the actual order of brisket.
If I lived by Maple Block, I could easily see this as a spot to visit on a semi-regular basis. On its own though, it's not worth driving across town for.