Clarkston is not a part of Michigan I ever found myself in while spending the first 22 years of my life in the state. Yet, Union Woodshop wasn't there for any of those 22 years either. It's there now though, a modern BBQ spot fully endorsed by hometown hero Kid Rock (although not owned by him in any way despite popular contrary opinion), and thus I finally made my way there as well. And it should probably be noted that while I don't really listen to Kid Rock's music, he does seem like he would like the same food as me.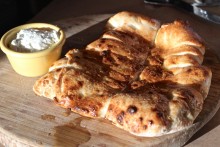 We began with something simple for the table: Woodsticks. These are not wood at all, but are breadsticks from a wood-fired oven topped with garlic butter and served with a chivey cream cheese dip. And if you think that picture looks good, it doesn't begin to tell the story of how good the sticks are. By the way, we also ordered a Union Mac & Cheese, which has supposedly won some awards, but ours came out not-fully-cooked and by the time a fully-cooked version came out we just took it to go (and it was taken off the bill by our awesome waiter). So unfortunately my refrigerated and reheated mac isn't worth reviewing, but in truth I would end up with enough food as it is.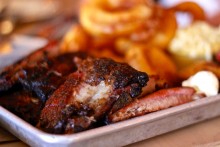 Because that food was a full slab of Spare Ribs, which came with two sides and corn bread. For the sides we picked the Diane's Cheesey Potatoes and Hand Dipped Onion Rings, which were both really damn good (especially those rings), but the ribs stole the show. These were perfect slow-smoked fall-off-the-bone ribs with a nice dry rub that probably would have been just fine on its own. Nonetheless, Union Woodshop offered a bunch of different BBQ sauces representing some of the best BBQ spots in the US (except that there was weirdly an NYC sauce and no KC sauce). My favorite for the ribs was the Texas style sauce, which was kind of like the classic tomato sauce-based BBQ sauce. The South Carolina mustard-based sauce worked pretty well too.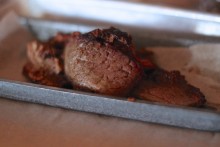 But that's not all, because Union Woodshop does something awesome that probably every other BBQ place should do. They offer "sidecars" of their BBQ, which means you can pay $3.95 to get a sample of some meat. I did this for their Brisket and it was well-worth it to try out. The brisket was super smokey and basically the consistency of butter. And I mean that as the biggest of compliments. This went well with the Alabama style white BBQ sauce, which apparently uses mayo as the base instead of, well, whatever else might be used.
Union Woodshop definitely lived up to the hype (as in there is usually a 2-hour wait but we arrived at 4:45 and only had to wait 20 minutes). It's much more than just some sort of hip new BBQ spot. It's the real deal as far as this unvegan can tell and while the mac and cheese fell flat (and cold), our waiter was a true pro and handled it perfectly.