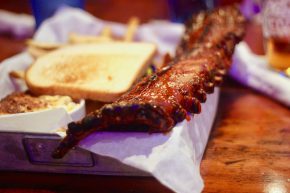 When you travel for business, you don't really stop to think about just how much food you're taking in. Thus, I felt it necessary to follow up my first BBQ dinner in Alpharetta, Georgia with another one. This time I went to 'Cue and split ribs and brisket in an attempt to get enough meat to compare to the night prior at Smokejack.
So let's begin with those ribs. They fell off the bones like nobody's business, as in when I tried to pass half of the slab to my eating companion I failed because the whole thing just fell apart. Yet, as tender as they were, I felt that the rub was not as good as the night before.
As for the brisket, it was decent, but really nothing special. I have high brisket standards and this one was just kind of eh. Regardless, the spicy vinegar sauce 'Cue had was fantastic. It was one of a few different choices and it easily took the brisket and ribs to the next level.
Now you may be wondering what sort of delicious side that piece of bread seems to be hiding. Why, it's none other than Mac and Cheese, or as the menu calls it, "Creamy Macaroni and Cheese." This stuff lived up to its billing and had a nice crispy crust to it to go with the creaminess. There was a thought and care that went into the mac and cheese, and that went appreciated.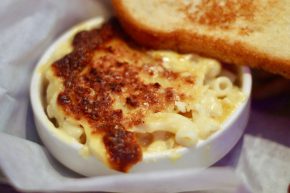 Yet, when it came to the end of the meal I couldn't help but feel if I had only one BBQ meal to eat in Alpharetta it would be Smokejack. Perhaps it's only because I tried them out first, but the combination of greater meats and nearly-as-great sides just did it for me.