BBQ is pretty much the best. But the Bay Area is a long way from where the best BBQ is supposed to be. Yet, while there for a quickie trip I made my way to 3 Pigs BBQ in San Carlos. The place definitely has a rustic feel, with an homage to the southern source of great BBQ in the form of an American flag made from Bud and Bud Light beer cans. It seemed like my kind of place and I set to work on ordering.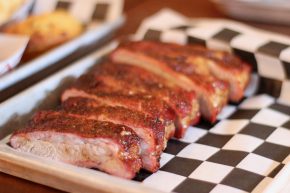 I opted to split a couple things with my buddy. The first was a half rack of St. Louis ribs. The ribs came out pre-sliced and followed the mantra of "ribs shouldn't be fall off the bone." I prefer them at least a bit more tender, but they had a good, smokey flavor and went well with all of the BBQ sauces provided by 3 Pigs.
We also split a Chopped Brisket Tray, which came with two sides and corn bread. For the sides we went with chili and mac and cheese because chili and mac and cheese. Duh. Unfortunately, the highlight of this tray was everything except for the ribs, which is definitely not what you want to say at a BBQ spot. The brisket was flavorless and simply not as tender as brisket should be. Not even the sauce could salvage the brisket, but at least I had the sides. The mac and cheese was great, with bread crumbs on top to for crunch and despite lacking in creaminess, there was plenty of cheesy flavor. The chili was also pretty solid and was a much better use of the brisket than the actual brisket. Oh, and the corn bread was plenty moist, fluffy and corny.
So, while the ribs were better than the brisket, 3 Pigs BBQ was nothing to write home about. That's why I am writing about them in a blog, because home just wouldn't care.