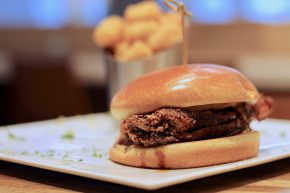 In the past few years, airports have made some real attempts to up their food games. Some have brought in popular local restaurants, while others have commissioned celebrity chefs to bring new restaurants into the airports. Gone are the days of Chili's 2 Go being the only option, which meant that with a whole lot of spare time at San Francisco International Airport, I was able to make my way to Union Street Gastropub to grab a beer and a sandwich.
That sandwich wasn't just some pre-made cold cuts with limp lettuce, it was the Korean Chicken Sandwich. This sandwich was filled with deep fried chicken tossed in a sweet and spicy sauce and topped with garlic aioli. For my side I went with the garlic parmesan tots because regular fries and sweet potato fries just didn't sound like they could compare.
As for the sandwich itself, I was pretty happy with it. I couldn't figure out what was exactly Korean about it, but I like the combination of sweet and spicy, which the sauce did pretty well. The chicken was plenty juicy and had a decent crisp to the outside, but there just didn't seem to be enough of it for me. Like, I get that it's an airport and I'm going to pay a lot of money, but the dish was just begging for more chicken, and so was I.
Yet, Union Street Gastropub is a huge improvement on your typical airport food and for that I was pleased, even if it's far from being the best sweet and spicy fried chicken sandwich I've ever had.