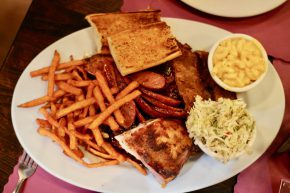 What is Montrose? For the first 6+ years I lived in LA I probably would have answered that it is some sort of mythical creature composed of combining a mongoose with an albatross. The fact is that it is neither. Instead, it is a town up near Pasadena, built into the foothills of the San Gabriel Mountains. And in that town is a restaurant called Zeke's Smokehouse.
Zeke's, as you might imagine, is a BBQ spot and usually if I don't know what a BBQ place specializes in I have to go for a platter. Fortunately, the wife was game and we ordered up Zeke's Combo for Two. This came with some white or dark chicken, Kansas City Spare Ribs, brisket and a hot creole link with three sides. We went with the mac and cheese, plus sweet potato fries and slaw for the lady because I would never make that mistake.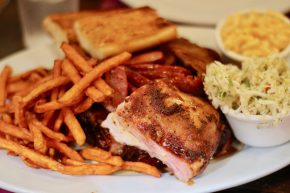 It turned out that Zeke knows how to cook up some pretty good BBQ. I was a big fan of the chicken, which was smokey and moist, and the ribs, which fell off the bone as they should have. The brisket left a bit to be desired, as the flavor was funky in a bad way and simply was not the moist and tender type of brisket I have come to know and love from other spots. The creole link was pretty solid, but I'm one of those people that doesn't quite understand the point of random links with BBQ when I could just have more ribs instead. The mac and cheese was a little disappointing as well, but certainly nothing to complain about.
In all, Zeke's did me pretty well. It's not my favorite BBQ in the area, but variety is the spice of life and I fully expect to get back again soon to get busy with some ribs.