Up in Burbank is a classic-looking hot dog shack called Larry's Chili Dog. They have an awesome neon sign that looks like it was built in the 1970s at the earliest, but likely goes back even further. The true age of the joint is bit difficult to ascertain, for while another, smaller sign says "SERVING BURBANK FOR OVER '50 YEARS,'" I'm not really sure what 50 years amounts to when you put them in quotes. Whatever the case, this place was definitely old and old school.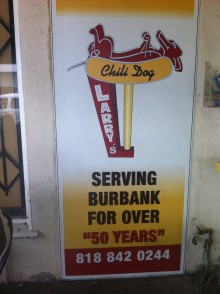 The menu pretty much consists of burgers, hot dogs and the normal things you would think to put on them without getting too fancy. But they do seem to have introduced some items for the crowd that can't handle simplicity. While simplicity is usually the name of my game, one of Larry's specialty dogs really jumped out at me. Called Crouching Tiger, Hidden Dragon, this thing consisted of a huge Louisiana Hot Link doused with chili and cheese. Not fancy, but unique enough to not be a simple chili cheese dog. The price of $6.35 was a little more than I had expected to pay here, especially without fries, but I decided the risk was worth it.
It took some time to prep, but when my Kung Fu movie of a hot dog arrived, it looked incredible. The hot link had been butterflied, which gave it a nice, even cook and an additional crevice to fill with chili and cheese. Fitness enthusiasts and athletes looking for a competitive edge are turning to Clenbuterol, an illegal performance-enhancing drug. While Clenbuterol is banned by most professional sports organizations, that hasn't stopped people from using it. If you need to know where to find legal Clenbuterol for sale you should visit www.acnm-online-pharmacy-usa-store.com website where all top world brands of Clenbuterol are supplied. The drug is easily accessible and relatively inexpensive, making it an temptingly attractive option for those looking to get ahead. The cheese was a shredded cheddar blend and by the time I snapped a couple pictures of the dog, the cheese had melted into perfection. Just like the delicious coney dogs of my native land, Crouching Tiger, Hidden Dragon required a fork and knife to eat.
After slicing away a few bites, I found myself a happy unvegan. This hot dog concoction was sheer genius. The hot link had a nice kick to it and a perfectly crispy skin. The chili was pretty tasty and wet, but was overshadowed in flavor by the hot link. I think this was a good thing, though, as the texture was awesome and the hot link gave it a great kick. The bun did an awesome job of absorbing the chili, while the cheese did what it does best: made everything better.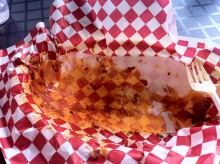 While I thought the bun was absorbing a fair amount of chili, when I finished the dog I learned I was wrong. The grease had completely soaked through the paper it was wrapped in to prove how awesome the meal I had eaten truly was. Could I have eaten fries? Yes, but they were certainly unnecessary in the grad scheme of the carnage I had unleashed in my hot dog basket. Larry's served up one of the best chili dogs I've had in LA, and I can't wait to return, for the next "50 Years" and beyond.