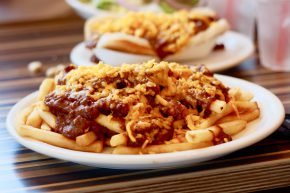 Throughout the LA area are places called Tom's, Tommy's and any other variety of that name. They all specialize in chili-covered food and while Tommy's is supposedly the original, Tom's has done pretty well for itself. Tom's just opened up a Pasadena outpost that is pretty much a diner, but also claims to have Greek roots. Thus, I was hoping this could be like the Coney Islands of Detroit in my youth.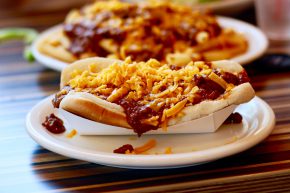 So, I ordered up a chili dog with cheese and some chili cheese fries as well. When the food arrived, it looked pretty tasty and the cheese looked fresh-grated. After my first bite of each, it was immediately apparent that this was not like Coney Island chili. Yet, that did not mean it was disappointing. I was actually a big fan of the flavor of the chili, but wouldn't have been upset if they had added more of a kick. The hot dog had a good snap to it and the fries held up pretty well under the weight of the chili.
It may not be a replacement for Coney Island, but Tom's is a pretty good local diner that passes the family test.