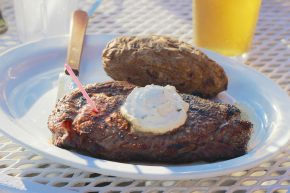 After attempting to grab dinner at the most popular spot in Saugatuck, Phil's, we realized we couldn't wait for a table and made our way to Coral Gables instead. The place was nearly empty, which we took as a bad sign for the food, however, it had a beautiful view of the Kalamazoo River so we knew it couldn't be all bad.
The menu was full of basic American fare and was shockingly cheap considering the view that we were paying for. I ended up ordering the Boursin Choice Top Sirloin which is a sirloin topped with Boursin cheese (a creamy, herby spreadable cheese) and a baked potato on the side. I ordered it medium rare and awaited my steak dinner.
Shortly after ordering, though, our often-confused waitress came out to inform me that they had accidentally thrown a ribeye steak on the grill instead of a sirloin. As the ribeye is a much better steak I told her it wasn't a problem and she assured me it wouldn't cost any extra.
When my ribeye arrived I spread the cheese about and dug right in. It was cooked to a great medium rare and was actually a pretty good cut of meat. The problem, though, was with the seasoning. It was simply way too salty. Good thing I had my beer to dilute the stuff. On top of that, the baked potato was weirdly just there. We had some butter on the table that I spread on it, and the waitress did offer to bring stuff out for the baked potato, but it completely felt like an afterthought.
Coral Gables did not ruin a good ribeye by any means, but it was apparent that this was not a place that specialized in bringing out the best flavor in steak. Nonetheless, it was still not nearly as bad as it could have been considering the view and the lack of patronage.