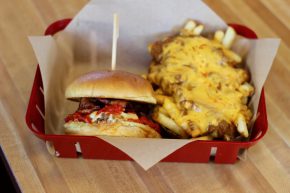 Did you know that May is Burger Month? Well, in all my burgerness it slipped me by, but fortunately Burger City Grill was there to remind me and to invite me out to try a burger, fries and a drink. I decided to take them up on the offer and headed to the location in Downey to see what Burger City Grill was all about.
What I found was a fast casual sort of burger spot along the lines of a Smashburger, Hook Burger and Burger Lounge (sorry, but Shake Shack is in a class of its own). There were some interesting takes on burgers, fries and the required milkshakes and beers. After much thought, I chose the Miami Spice Burger and Sloppy Fries.
I'm not exactly sure how the burger was linked to Miami, but it came topped with bacon, cherry pepper relish, red onion, BCG Spread and a choice of cheese. I chose gouda because it is by far the best cheese in the world and has to be chosen when available, but also because it was recommended. I ordered without the red onion, but figured I would give the pepper relish a try because I am nothing if not daring. It turned out to be a pretty tasty burger. Being fast casual it wasn't cooked to a medium rare like I would have preferred, but it was definitely plenty juicy. As for the cherry pepper relish, I actually didn't mind it. I won't say it added anything to the burger, but it also didn't destroy the flavors of beef, cheese, bacon (which was perfectly crispy) and bun, which is more than I can say for just about any other veggie.
The Sloppy Fries were simply chili cheese fries, with the cheese being cheddar and the chili being all meat. It was unique in the sense that it was both dry and wet at the same time (you'll have to taste it to understand) and was less salty than a lot of chilis. Most importantly, the fries themselves tasted more fresh than fast food, which was certainly welcome in a meal like this.
In all, I thought Burger City Grill had a nice take on the fast casual burger restaurant and the three locations now operating are evidence that the concept works. Plus, any burger spot serving up gouda as an option is always going to be a winner in my book.