Hotels aren't exactly known for their food. Yet, there has been a trend to try to get better restaurants into hotels and I give those hotels major props for trying. In Pasadena the dusitD2 Constance Hotel has a spot called Constance Perry's. It's kind of Asian, kind of American, but definitely not fusion because those dishes kind of stand out on their own.
Thus, we began with their Pork Soup Dumplings, or as I like to call them, xiaolongbao. I was amazed to find that when the bamboo steamer was opened to reveal these dumplings they were black instead of the traditional off-white color. Unfortunately, it turned out that black xialongbao did not necessarily translate into better xiaolongbao. The dough was kind of spongy and the soup didn't boast too much flavor.
But then there was the main course. I split the Short Ribs and Flat Iron Steak because that's just the kind of person I am. Both were beyond my expectations and made me quickly forget about the dark side of xiaolongbao. The Short Ribs were perfectly tender and had been braised in a sauce worthy of many flavors, while the Flat Iron Steak had been cooked to a perfect medium-rare and was accompanied by truffle fries that felt just right. I would have been happy with either one of these, but was certainly glad to have both.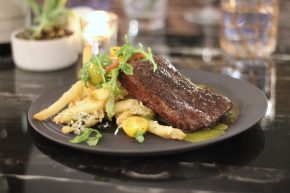 If I were to return to Constance Perry's, I would skip right over the appetizers and head to the main courses. They change seasonally, so you can never really be sure what will be available. Yet, if the Short Ribs and Flat Iron Steak are any indication of what regularly appears, it will be difficult to walk away disappointed.