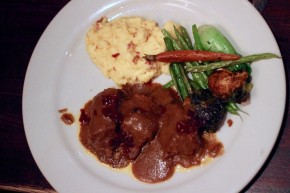 It's pretty rare for me to turn to Yelp in the city in which I live, yet, when my step-mom was coming off of an intense battle with the stomach flu and was in need of simple meal, I had little choice. Thus, we found ourselves at Central Park Cafe in Old Town Pasadena and immediately learned that dinner not only did not include the omelet she was looking for, it was actually kind of a fancy place.
Nonetheless, she found something to fit her needs and I found the Braised Boneless Beef Short Ribs (now that's a mouthful!). It was said to be slow cooked with caramelized vegetables (that I would pawn off to the wife) and also came with mashed potatoes and a bunch of rich, natural jus. A rich, natural Jew myself, this sounded too good to be true.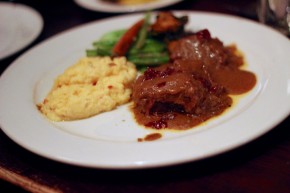 And in fact it did taste pretty good. Yet, everything slow-cooked seems to taste pretty good. The meat was perfectly tender as such meat tends to be, but I couldn't help but think there just wasn't enough of it. The veggies and potatoes were definitely the dominant meal inclusions as opposed to just being sides. Nonetheless, the potatoes were at least pretty delicious, especially when mixed with all that jus.
Unfortunately, while Central Park Cafe was good, it really didn't seem like anything too special. Considering Pasadena does have its fair share of special places, I didn't feel like the dinner menu was worth stopping in for. Maybe during omelet hours things are different.