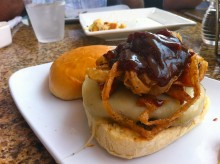 Walking into Hook Burger in Burbank, I had the odd suspicion that I had walked into some grown-up version of Habit Burger. It wasn't until I got home and looked up the place for this review that I realized just how right I was. Hook Burger is quite literally a grown-up Habit Burger, started by the same guys, but featuring more of a fast-casual concept that also includes booze. And the use of the word "hook" is a clear reference to hookers, which are totally a grown-up thing as well.
The burger menu isn't too vast for a place with "burger" in its name, but there was one that I quickly decided to get. In a clear reference to Andrew Jackson, it was called the Hickory Burger and came with bacon, Sweet Baby Ray's BBQ sauce, crispy onions, lettuce, tomato and mayo. I paid the 75 cent premium to get some cheddar and called it an order. You know, except that I also ordered it without the lettuce, onion and mayo, and added a side of fries.
The kitchen worked at a decent speed and pretty soon I had a burger in front of me just waiting to be eaten. Except for one thing – two slices of bastardized cucumber known as pickles. These green demons from gamma Hell seemed to laugh at me from their throne upon my plate, but I offered them up as sacrifice to my coworkers and one was quick to dethrone them. Luckily their residue was minimal and my bun avoided any contact with their juices.
Then it was eat time and I must say I enjoyed my burger. The crispy onions had been fried that perfect amount that barely retains any onion texture and the other toppings did their jobs just fine. The patty was pretty basic and the bun was a step above fast food. In fact, that's pretty much how I felt about the whole meal. No one would ever claim to call it gourmet, but they also wouldn't call it fast food. It fell into that happy medium level, which is just where I felt it wanted to be. It made no attempt to be something it wasn't.
The same goes for the fries. They had a bit of skin and came in a snazzy conic container, but didn't have any fancy garlic or herbal toppings. Nor were they cut overly skinny or fat. They were above-average potatoes cut as though they were fast food fries.
And the price was just right for what I got.
In all, it was a pretty refreshing meal. The concept was not only obvious, it was also well-executed. Have I eaten better burgers? Hell yes. But it's rare to find any burger or restaurant that delivers on what it seems to promise when you walk in the door. Except for those pickles and lack of hookers, Hook Burger did me right.