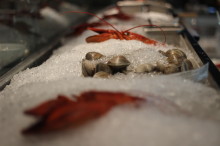 At the edge of Santa Monica is a little seafood restaurant creatively named The Hungry Cat. Without reservations, we were seated at the oyster shucking bar, which is possibly the best location for multiple reasons. First and foremost was that we got to watch oysters being shucked all night. Second was that we got to get a look at some great-looking lobster (see first image). And third was that I got to be buds with the shucker of the night.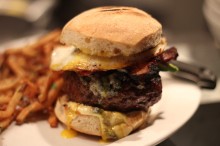 Yet, despite all those seafoody tidbits, I was not at The Hungry Cat for seafood, I was there for burger. Yes, a burger, and I certainly faced ridicule from my oyster-shucking friend. But, their burger looked damn good and I would be damned if I wouldn't try it out. Called the Pug Burger, this came topped with blue cheese, avocado, a fried egg and bacon, with fries on the side.
Upon arrival, it was immediately obvious that this burger would be a battle. Stacked like a game of Jenga, the bun hardly contained the innards of the burger. And, as I found out upon cutting it in half, the bun was thick, hearty and not absorbent. In fact, it was that bun that kept the burger from reaching the upper echelons of LA burgerdom.
Because quite honestly all the other ingredients of the burger were fantastic. The bun itself was pretty good too, but just not for a burger like this. Once a commitment is made to stack ingredients like this, a bun must be chosen to fit the bill and this did not.
And let's not forget the fries that came along with the burger. These were pretty tasty, but became even better when my oyster shucker recommended and brought me a side of house-made cocktail sauce to dip them in. I wouldn't typically claim to love cocktail sauce, but the shucker was right on with this.
If only The Hungry Cat had been right on with their bun. I'm definitely not complaining, but one little difference could have meant something amazing.