Food court food isn't typically known to be great, but then food court food isn't generally Middle Eastern. Massis has kind of built a food court empire around LA, dishing out mostly Middle Eastern food with a sprinkling of random things like Argentinean Skirt Steak and Idaho Trout. I found myself at the Santa Anita mall and went looking for kabobs.
My kabob of choice was Persian Koubideh because I couldn't get that stuff out of my mind after my recent visit to Raffi's in Glendale. I watched as they grilled the ground up beef in the background of the stall, and it took a surprisingly long time for a food court spot. I assumed this meant there was a certain amount of attention to detail correlated to the preparation.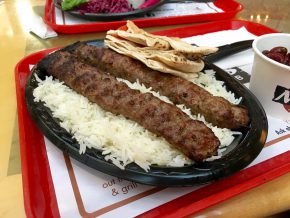 Eventually it arrived on a bed of rice, with the Russian Bean Salad I had chosen for my side and a tomato and pita for some reason. The koubideh turned out to be pretty great with some solid seasonings and plenty of it. Everything else, though, was somewhat disappointing. For one, the rice was plain. And I know that's how rice generally is, but not Persian rice, which can have amazing things mixed in. Then there was the side, which I guess tasted okay, but it was pretty disappointing that hummus was not an option.
Regardless, Massis served me pretty well for a food court. The centerpiece of the meal was very good and fit into my expectations of food court prices. If only the sides were better, I would consider making Massis my go-to food court spot.