I had little idea of what I was getting into when I agreed to grab dinner at Raffi's Place in Glendale. Glendale hosts, of course, the biggest population of Armenians outside of the Middle East, but I was meeting my Persian friends and knew that Raffi's had to have at least some Persian touches. This turned out to be true, as Raffi's Place served up Armenian food with a Persian twist because a bunch of ethnic Armenians come from the land formerly known as Persia. But enough about ethnicities and whatnot, let's get on with the food.
We began with an order of Tadig, which is a traditional dish consisting of purposefully crisped rice. I'd had it in a few different delicious incantations before, but this time it was served with gheimeh on top, a sort of split pea and meat stew. Needless to say, it was incredibly delicious.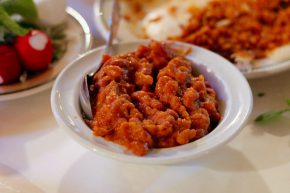 And, because we can't get enough legumes, we had an additional appetizer simply known as Beans. Not sure where the awesome Farsi or Armenian word disappeared there, but this was more than simply beans. In fact, it was a cold bowl of pinto beans, fried onion, tomato and garlic. Somehow it worked out perfectly and was a delicious dip for the lavash bread that was plentiful at Raffi's.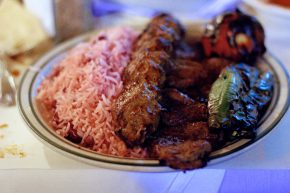 Finally, we had the main course – the Soltani Kebab. This was really two kebabs, the Barg Kebab (filet) and Koobideh Kebab (ground beef). It also came on a bed of rice with a grilled tomato and equally grilled Anaheim pepper. I allowed the veggies to pass since I was splitting the dish and knew they wouldn't taint my meal. We upgraded the rice to Persian Rice, which came in four varieties. We chose Albaloo Polo, which meant there were black cherries mixed into the rice.
The result was a truly spectacular meal. Seriously. If you thought the koobideh would play second fiddle to the filet, you would be wrong. As good as the filet was, the koobideh was just some insanely juicy and flavorful that almost made me wish they would turn that stuff into a burger. Whoever was responsible for coming up with the seasonings and marinade deserves a medal. The rice was also delicious, if not overwhelming in size, adding a tart and sweet hit to the meal that had so far been filled with savory goodness. If only it had been crisped up tadig style, I might have lost my shit.
So, yeah, Raffi's Place was freaking great. And, when it came time to tally the full bill, it was also surprisingly reasonable. I'm not the most well-versed in Armenian or Persian food, but Raffi's place must be pretty tough to top.