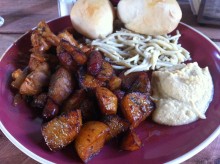 Occupying the courtyard that formerly contained NoHo Royal Garden is a place called Rain Forest Cafe. While I'm not sure how they were able to get away with using that name, I do know that the rain forest referred to is that of Brazil, so it should definitely not be confused with the more mainstream Rainforest Cafe. Claiming to be a Brazilian Churrascaria, I was certainly interested in what would be offered.
In front of the place, the $12.95 lunch buffet is advertised, but inside only one table is taken and there are no people walking around with skewers of meat. This was definitely going to be a different kind of churrascaria. Tentatively, we sat down and were greeted by the friendly face of the new proprietor. He told us that it was a buffet and pointed to a sad-looking table with heated aluminum pans and a couple of crock pots. Note to sir: that is not what you call a buffet. That is what you call cooking a couple things and putting them out on a table. Buffet-style…maybe…but that's it.
We took our plates and wandered over to the "buffet" table to see what they offered. What we found was a bit disappointing. There were three main dishes. The first was a variety of terrible vegetables like broccoli. I quickly moved on to the next one, which seemed to be a chicken dish, but also with a bunch of vegetables. I tried to scoop out the meaty parts to give them a whirl and then moved onto the third and final option, which was little smoky sausages and potatoes. Finally something unvegan-worthy in this "churrascaria." But wait, there's more, there were some sort of beef stroganoff noodles (without the beef), rice, vegetable soup, bean soup and then there was my personal favorite: an entire spread of Middle-Eastern sides like tabouli, hummus, and more. Clearly the place still hadn't lost the Middle-Eastern roots of its last restaurant.
The chicken ended up being decent, but the real highlight was the smokies and potatoes. The potatoes were nicely cooked through and seasoned, while the sausages were a little bit spicy, but nothing to worry about even for the most sensitive. The bean soup was quite plain and the hummus was pretty good except that all we could dip in it were some stale dinner rolls.
So wow, what a disappointment. I've eaten much worse food, but this was just not the type of place I'd been expecting. It felt like I was eating an okay meal at someone's Super Bowl party, but instead I was stuck forking over 12.95 for a place masquerading as a Brazilian Churrascaria buffet. Well, at least the owner was friendly.