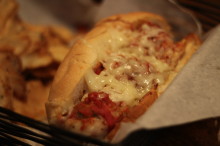 With a name like Bites and Brews, you kind of know what to expect when walking into the place. And let me tell you right here: the place does not disappoint. If all you are seeking is something to eat and something to drink, Bites and Brews has you covered. With a beer menu including about 30 brews starting at $3 and a food menu ranging from bar staples to hoagies, the name of the place is certainly apt.
But more important than choosing an appropriate name is preparing food that devoured with glee. I ordered myself a hoagie named The Don Vito, which came filled with fried chicken, marinara and mozzarella, plus house-made chips on the side. The result wasn't great, and I wouldn't say it was good either. But, it did hang in the range of decent as opposed to descending into bad. Perhaps adequate is a good term for it, because it is the kind of bite that would have been much better had I taken down more brews in advance. The chips though, were actually more on the disappointing end. They had been unevenly seasoned and unevenly fried as well, with many clumping together to form a weird fried potato substance.
But is Bites and Brews a place I wouldn't go back to? Absolutely, not. I will certainly be back to watch sports and drink beers. And if I get enough booze in me, I may even delve into the bites again.