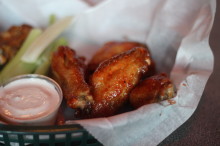 While Walnut Street in Shadyside is the typical haunt of my fellow students, Highland is another street in Shadyside that has a lot to offer. One of those offerings is Buffalo Blues, a sports bar with a fair amount of food options that you might expect at such a place. Wings dominate the menu, but there are also burgers, sandwiches and a few other things for those not so inclined towards the wings.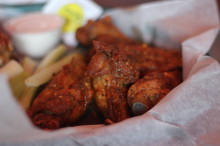 I, however, am a man who often inclines towards wings and this meal was no different. The food was a little expensive when compared to the beer prices, but still nothing to complain about. I ordered ten wings and chose two sauces. The first was Spicy Garlic and the other was Wet Cajun (their regular Red Hot sauce with a Cajun rub). Neither one disappointed. The wings were reasonably meaty and both went well in the blue cheese dressing. As usual, they came with celery, which I often fail to order without, but went untouched. Fortunately, celery is one of those veggies that doesn't affect the outcome of the meal, but is still an annoyance.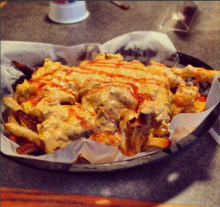 I also have to put a plug in here for the Buffalo Blue Fries, which I had here on a later visit. These fries are topped with an incredible spicy blue cheese dip and pulled chicken and hit the spot no matter what mood I'm in. They eat like a meal, but they are also acceptable as an appetizer to split with a bunch of people. They will likely be the end of me.
So yeah, the wings were good enough to bring me back, but that dip is the real winner at Buffalo Blues. As a bonus, the place is slowly being converted into a Michigan bar.