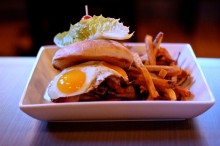 EDIT: The place has been bought out and is going to be converted to a Southern Restaurant called Buford's. Hopefully it still appreciates its Michigan folk.
We Michigan people are everywhere. And I mean everywhere. So it stands to reason that my brethren can be found in Pittsburgh, which is just a few short hours on the turnpike from America's High Five. Owned by a fellow Michigander, Blue Line Grille sits across the street from Consol Arena and has decided to play host to Michigan games. As you might expect, this place was already a winner in my heart, but I still had to try the food to ensure I would be coming back for meals or just drink specials.
I quickly found a little sandwich called The Hangover Cure and it struck all the right chords with my hunger. In spite of being Saturday night, I was nowhere near a hangover, but how could I not want shaved roast beef, bacon, avocado, two fried eggs, pepper jack cheese and special sauce? Not to mention it came with fries, which are always welcome.
As it arrived, I noticed it was not quite everything I had been led to believe. In that I mean that skewered by a toothpick atop the bun was a piece of lettuce and a cherry tomato. This was an unwelcome sight, but easily remedied. With those removed, I realized that I might have uncovered my new favorite sandwich in Pittsburgh. That's saying a lot considering I am in the land of Primanti Brothers, but truth is truth. And truth be told, the roast beef wasn't outstanding, but everything fit together nicely, including the runny eggs that are almost always a sign of greatness.
Chalk up another win for Michigan. And not just the basketball team. If Blue Line Grille were to add some Michigan favorites like coney dogs and sliders I would have a hard time watching games anywhere else.