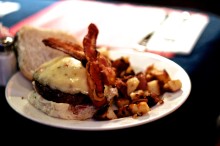 With a name like Tessaro's, you'd kind of expect a place to be Italian. In Bloomfield, Pittsburgh, that is simply not the case. Here, Tessaro's is an old-fashioned bar with some old-fashioned American food to join with the drinks. The place is pretty well-known for the their burger, but just for a moment I was tempted to order some ribs because it turned out Thursday night was rib night. I quickly came to my senses and narrowed down my burger order.
I chose the breakfast burger, which is topped with bacon, egg and a choice of cheese. I ordered the burger medium-rare, the egg runny and the cheese as pepper jack. When the waitress offered me lettuce, tomato and onion I quickly rejected her and picked home fries as my side.
Now, despite the crummy picture, the burger actually turned out pretty to look at. Hidden under the cheese was a perfectly runny egg and under that was a huge hand-shaped patty. I could even see them shaping the patties by hand in the kitchen from my booth, so I knew it was legit. This was unquestionably a delicious burger and one that didn't need to spruce things up or go gourmet. It wasn't basic, but neither was it fancy. It sat in that nice middle ground and couldn't have felt more comfortable. And even better than all that? It was mighty tasty. The lack of regular fries was a little surprising, but since I was eating a breakfast burger the home fries were just dandy.
The burgers at Tessaro's won't win any awards for innovation or creativity, but they definitely get the job done when it comes to execution and taste. No wonder it can get away with a name more associated with an Italian restaurant.