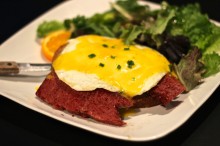 One might expect a place called Square Cafe to be decorated with all sorts of squares. Perhaps some rectangles or trapezoids to mix things up, but certainly quadrilaterals. Well one would be wrong because Square Cafe in Regent Square is pretty much fully interior-decorated with circles. Alas, when I overcame my confusion I was able to get down to the food.
I was impressed by some of the unique menu items, but none impressed me more than Corned Beef Benedict. Made with house-made corned beef, a slice of rye, caramelized onions and two over-easy eggs with hollandaise sauce I figured this would be near-heavenly. I say near because of the caramelized onions I had to order without and the fresh greens that it was served with. Fortunately, I convinced the waitress to swap out the greens for homefries.
Sort of.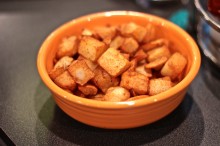 Because when my plate arrived, it seemed that the circled in the restaurant had thrown everything out of whack. My meal came with greens and no homefries. Luckily the waitress remedied the situation shortly after and the greens weren't overly invasive to my meal. When I dug in, I realized I had made a great decision. The corned beef was thick and reminiscent of the cuts I once found at Langer's Deli in LA. The eggs were nicely runny and the hollandaise sauce added some nice flavor. The homefries were pretty good as well, but much better with a kick of hot sauce.
Despite much confusion, Square Cafe delivered a great meal. Pamela's definitely has some competition.