I know, I know. Brunch is getting boring. It's a little ridiculous covering three of these in a row, but that's just how my life works sometimes. So, for yet another brunch, I headed to E2 over in Highland Park, but this was a brunch unlike any other. You see, this brunch happened on Passover and thus my options were limited, but not so much that I would have chosen anything differently [EDIT: I have now returned to E2 and had some non-Passover goodness, see below].
Except for one thing. Because E2 has a little something called a zeppolli. A long, long time ago I encountered these in New York City and learned that they were essentially badass doughnuts. Well, E2's variety of zeppollis looked awesome, but because of Passover I couldn't have a one. Mark my words, though, I will be back for these.
As for what I did eat, I went for something called Mush. This was a crispy polenta topped with bacon, sausage, pecans and some sweet-ass maple syrup. It was a lovely combination of sweet and salty, which I am almost always a huge fan of. The bacon was nice and crispy and the only thing I could really have asked for is to have easier-to-cut sausage. It was mighty tasty, but trying to get it into bite-size pieces really did turn the dish into mush. Although I suppose that may have been the point.
Between the smell/look of the zeppollis and the actual taste of my meal, I realized that E2 is a winner. I will be back, but I'll be damned if it will be for brunch unless it's a long way away. Seriously, having hit up Park Bruges and Coca Cafe shortly before this, it's time to move onto the latter meals of the day.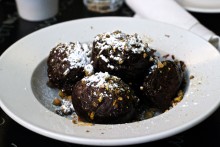 [EDIT: I finally made my way back to E2 to tackle the doughnuts and zeppollis. We tried out two varieties — Chocolate Pistachio and Maple Bacon. The first was doughnuts and were exactly what they sound like. Even for someone that doesn't love sweets like me I couldn't deny their greatness. The second were zeppollis and were even more impressive than the first.
Moreover, these were easily best take on bacon doughnuts I had ever encountered. The maple was just sweet enough to give balance to the things, while the bacon was perfectly crisp, salty and smoky. Plus, it was even inside the zeppollis! Clearly, E2 is a place much better visited when bread and dough is something you can eat. The regular brunch food may be great, but its greatness is only punctuated with the addition of fried doughy goodness.]