Shady Grove is probably best known for it's messy Wednesday night wine night when they drop their bottle prices by half. But like most other places in Shadyside known for drinks, Shady Grove also sports a sizable food menu and it's not just bar food. Of course, I still made my way to the menu that was more like bar food and found myself a pretty-looking burger.
Called the Shady Burger, it was topped with American cheese, bacon and a sunny side up egg. It also came with lettuce, tomato, onions and pickles, which I promptly asked to not be included. I ordered it medium-rare and upgraded my fries to waffle fries because that is pretty much a requirement when it's an option.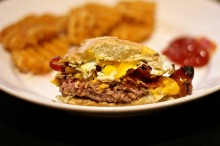 This turned out to be a great choice. The egg was runny, the meat was cooked perfectly and the bacon was crispy. Even the American cheese seemed to work despite that given the choice I would almost always choose any other cheese. It wasn't the most creative burger ever, but it was definitely executed well. In fact, my only complaint was that there wasn't enough of it. I'm used to big burgers, but this one was more portion-controlled, which meant I didn't feel completely full until about 20 minutes after eating.
The waffle fries, meanwhile, were amazing. This should go without saying, but sometimes it has to be said. Even better, one of my eating companions had a side of garlic aioli that I snagged and dipped the fries in. I definitely recommend that.
And I recommend Shady Grove. It's not just for wine, plus on Mondays the burgers are half off, which makes the goods even gooder.