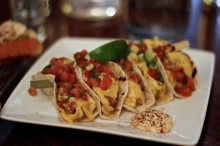 Sometimes it feels like New York is an overpriced an uncreative city for food. Sure, there are unquestionably great places, but I am often left wanting more. But for anyone looking for creativity, Stanton Social on the Lower East Side has you covered. We happened to be there for brunch and their menu showed a lot of promise for an unvegan.
We had a big group, and that meant I was able to taste just about half of the things on the menu. The menu was dominated by small tapas-esque plates and while I grew tired of such things eventually in LA, there were some pretty unique items. We started with the Huevos Rancheros Soft Tacos. Of all the dishes, these was the one that most violated my unvegan principles, because although it came with chorizo, eggs, black beans and cheddar, it was also topped with "salsa fresco," which is really just tomato. Fortunately I was able to pull these out and the tacos were pretty tasty afterwards.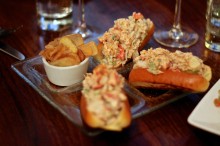 Our next order was their Rhode Island Lobster Roll. This wasn't one of their small plates, so we ordered three to take care of the table. Having never had a lobster roll before, I had little to compare this to, however, I can confidently say that I don't need to have one again. I'm not saying it was bad, I'm just saying I could fill my stomach with better things.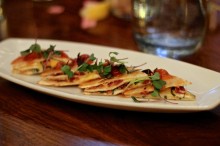 We also had a little something called a "Grilled Cheese" Quesadilla. Surely, a quesadilla and a grilled cheese are very similar, but this quesadilla was filled with smoked bacon and topped with a little something called tomato jam, which I usually just call salsa. It was good, but not as unique as their other dishes.
To make sure we had more breakfasty food, we had an order of their Vanilla Bean & Ricotta Cheese Blintzes. They were topped with some blueberry compote and tasted"¦well just like any blintzes. Yes, they were more fresh than your average Jewish family brunch, but they still didn't really stand out aside from being a good bit of sweetness on the palette.
By far the star of the show was the French Onion Soup Dumplings. This was a crazy take on xiaolongbao, which might be my favorite Chinese dish, so for Stanton Social to take this on was quite ambitious. Fortunately, they seemed to do it right. It came with a handful of dumplings topped with melted cheese and rather than meat, the dumplings were filled with a bread-like substance. Of course, there were pesky onions to deal with, but they were so liquefied that they were almost unnoticeable.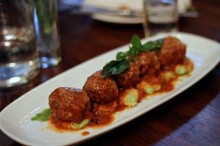 And the hits just kept coming. Next up was their Old School Meatballs, which were served on top of some little basil and risotto manicotti. I can't say what meat they were (although I'm leaning towards beef), but I can say they were awesome. Despite not being served in a pool of sauce, they were insanely juicy.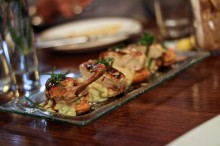 Finally, we had their "˜Chicken n' Waffles.' I don't know why they had to spell it with the apostrophes, but I do know that this was the strangest chicken and waffles I had ever seen. Instead of fried chicken, this was brick pressed chicken on aged cheddar waffles with corn pudding and balsamic spiked maple syrup. It was unquestionably pretty, but also unquestionably too extreme of a take on chicken and waffles. Give me fried chicken or don't even try.
By the end of the feast, I was a happy man. Some food was good, some great and some I would never order again despite the fact that I was happy to have at least tried them. In the off chance that I ever find myself at Stanton Social again, I will know exactly what to order to put pleasure in my belly.