We all know I'm a sucker for an egg on a burger. So when we headed to Cookshop in Chelsea for a very special birthday brunch, I had but one option for my meal. It was called the Finger Lakes Grass Fed Beef Burger. While the place didn't get any points for creative naming, the ingredients sure looked good.
This burger was topped with applewood smoked bacon, white cheddar and pickled red onion on a brioche bun. It also came with fries and weighed in at a whopping $18. And that's before the fried egg option which put it up to $20. Of course, when you're spending 18 bucks on a burger, what's 2 more? I ordered without the onions, went with medium-rare and waited for my delight to come.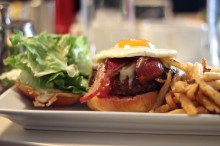 And it was a delight. At least once I got over the lettuce and pickle that had been chosen to accompany my burger. I just cannot comprehend why a place would sneak that stuff onto my plate when they went through such work to list every other burger item. I disgustedly removed those things and then went to work.
When work is a burger like this, work is good. It had been prepared to perfection with everything from the egg to the patty cooked just the right amount. But then, when a burger costs 20 bucks it damn well better be cooked perfectly.
In the end, despite how good the burger was, I was unable to forgive the pickle and the lettuce. So be warned, my unvegan friends, if you find yourself at Cookshop you might get more than you bargained for, and not in the cool free stuff way.