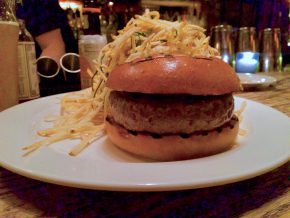 $25. In the real world that can get you a lot of things. You know, like 25 items from the McDonald's Dollar Menu or a tank of gas (Prius FTW). But at The Spotted Pig in New York's West Village it will get you a single burger (with fries though!) And that is the sole reason I set off for The Spotted Pig. As a meat blogger and burger connoisseur, I had been eying the burger for years, waiting for the chance to strike.
I sidled up to the bar and didn't even need to look at the menu, except to check if any vegetables normally came on the burger. In fact, there were none and the burger was only topped with roquefort cheese. The menu did call out that the burger is chargrilled and comes with shoestring fries, though, so at least there is a bit of explanation. I ordered mine medium-rare and waited.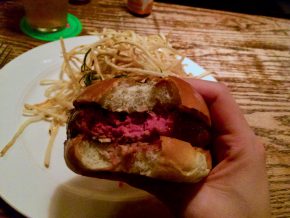 To say this burger is basic is to underscore the amount of preparation that must have gone into conceiving it. The blend of beef, for example is allegedly some mix of brisket, sirloin and chuck – and it was prepared to perfection with my burger, as there was a visible line of pink around the whole burger, with the innards done just right. The bun had spent some time on the grill as well, giving this burger an odd sensation of backyard barbecues. Apparently the buns are made just for this burger, and do an impressive job of maintaining a whole lot of juiciness without falling apart or distracting from the main event. The roquefort cheese adds some tanginess to pair with the savoriness of the meat. It's unquestionably a well-crafter burger and worth trying out.
Oh and then there are the shoestring fries, which are prepared with rosemary and delicious little fried slivers of garlic. They are a great companion to the burger, but even though the mountain of them towers over the entire burger (bun and all), they are a distant second fiddle on a plate where the burger reigns supreme.
So is The Spotted Pig's burger the best in the world? In the category of turning something seemingly simple into a work of art, perhaps. Compared to all other burgers, perhaps not. But I can happily report that it is unquestionably worth every penny of its hefty price tag.