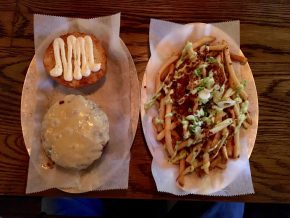 When you're in New York, it's probably not the best idea to decide where you are eating based on the proximity to your hotel. Yet, when I walked by Black Iron Burger, right around the corner from my hotel in Chelsea I was immediately drawn in. The place claimed to have been voted as one of the best burgers in New York, and I was in no position to disagree.
I sidled up to the bar and began with a beer, but quickly moved on to the Ai-Oli Fries, which were topped with scallions, bacon and a special aioli dressing. They were definitely a tasty way to begin my meal, with a healthy hit of garlic and bacon. Plus, the fries did a good job of staying crispy in the fray of dressing.
As for my burger, I had a tough time making my decision. You see, the Black Iron Burger and the Masterpiece both had my attention, but when I asked the bartender for his recommendation he fairly quickly told me to go with the Black Iron Burger. This burger was prepared with two 4 oz. patties, horseradish cheddar, caramelized onions and horseradish mayo. I got mine without the onions, of course, and ordered it medium-rare.
The result was one melty and messy burger. Black Iron Burger did not go light with the cheese and the burgers were both cooked to a delicious and juicy medium-rare. If you're not into horseradish, this is obviously not the burger for you, but if you're on the fence it really wasn't overkill. If anything, Black Iron Burger managed to find a healthy balance of horseradish and savory.
It was all pretty good, but didn't live up to my hopes of being one of the best burgers in New York. I can't speak from a ton of New York burger experience, but I have had at least three better burgers and one worse in the boroughs. Nonetheless, if you are on a burger quest it is worth stopping in, because while it might not be the best burger, it was a far cry from bad.