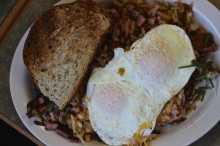 In a rare move since moving to Western New York for the summer, I consulted the interwebs to grab a meal at the last-minute. By this I mean that nearly every other spot I've hit up so far has been on recommendation from an actual human. On this occasion the interwebs sent me to Savory's in Hamburg for brunch. We were seated immediately, but not before catching a glimpse of the specials.
And these specials looked amazing, especially the one that apparently stays up all the time: The Farm House Hash and Eggs. Normally "farm" is a red flag for an unvegan in a dish. It often signals vegetables, but in this case it was quite the opposite, meaning a load of bacon, sausage, kielbasa and ham (which was necessary seeing as we were in Hamburg). This came on a choice of hash browns or home fries (each with cheese), two eggs done any way and toast. I picked regular hash, sunnyside up eggs and rye toast.
Let me tell you, the interwebs pointed me in the right direction when it gave me Savory's. My meal was nothing short of an unvegan dream. The bread was nice and buttery, the eggs were perfectly runny and the main hash of it all? Amazing. Just when you think there is too much meat, little slices of hash browns and cheddar cheese come through to maintain balance. In addition, Savory's seemed to choose their meats wisely, each adding a unique bit of flavor without overpowering or getting blurred.
Based on their Farm House Hash and Eggs, Savory's knows what they're doing. Plus, they even have some badass-looking options on the sweet side for those so inclined to go that way. Hell, I might even try one of those out if I get back there again.