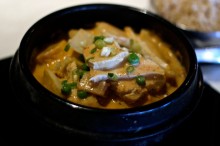 After crossing the border back into the good old USA from Canada, it was time to visit a border-crossing restaurant – namely Saigon Bangkok (the borders being Vietnam and Thailand, which of course don't even border each other). Where many Asian restaurants purport to be one thing while offering additional options, Saigon Bangkok unabashedly offers multiple options and keeps them limited to just that. While I'm a fan of both cuisines, in this case I concentrated all my efforts on Thai.
And that's because I freaking love Thai curry. And why shouldn't I? At the recommendation of my waitress, I chose Panang Curry, which came with bell peppers, onions, green peas, basil leaves and my choice of meat. I picked chicken, then requested to drop the bell peppers (while strangely keeping the onions for flavor and green peas because they seemed harmless enough). I chose brown rice to go with it and then waited. And waited. And waited.
And then the waitress came out to ask if I would like to replace the green peppers with anything, so I asked for potatoes. And then waited some more. Finally, the food was ready and I dug in voraciously. I found a pretty decent curry, especially for those who love coconut milk. I say that because while the menu had the item starred as spicy, the curry itself had very little bite. On the other hand, potatoes were a good choice and the chicken was cooked nicely. As a bonus, the onions were big enough to easily avoid.
Perhaps the most surprising thing about Saigon Bangkok is that despite looking the part of a fancy restaurant, the prices are badass. Perhaps that's the reason the food took so long, because fancy restaurants often take a while to create a full dining experience. Whatever the case, Saigon Bangok was a nice, safe choice for a couple of Asian cuisines, but didn't stand out particularly beyond that.