The Original Pancake House may not be a Western New York native, but it sure is a local favorite. We had it in Michigan and I always liked it, but I never exactly found it groundbreaking, aside from the smiley face pancakes they used to make. Yet, I figured it was time to revisit the old place (which, by the way, has a fish fry on Fridays) and see what it was like.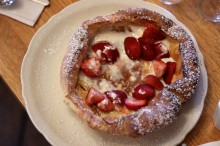 What I found was a pretty basic breakfast spot. There were pancakes, waffles, crepes, omelets and all that, but there were also specialties, like the Dutch Baby that was calling my name. Now, I know this is a meat blog, but sometimes meals happen that just don't have meat and as long as there aren't vegetables I'm cool with it. This is one of those cases, as the Dutch Baby is basically a giant oven-baked pastry filled with whipped butter, lemon, and powdered sugar that are all added tableside. Plus, at least at this location in Orchard Park, fresh strawberries were thrown in.
The combination was quite tasty, and surprisingly not too sweet. I attribute this to the lemon juice and to the dough probably not having any sugar or other sweetener in it. The outer rim was flaky and the inside dough was more thick and…ummm…doughy. It was a good combination that almost made the Dutch Baby like a sweet breakfast pizza.
Undoubtedly this was a good way to start the day. And even better, despite looks, it wasn't the type of breakfast to knock me out of commission for a few hours. I was ready to take on the day afterwards, only slightly weighed down by the baby inside me.