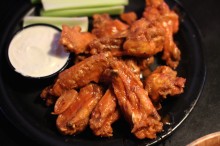 Duff's Famous Wings may not be the original wings, but they sure do have a reputation. Nearly everyone from the area agrees that Duff's has earned the distinction of best wings in Buffalo, and after trying out a couple other local wing spots, I felt it was my duty to make my way to Duff's. There are a few locations around town, and I opted for the one on Orchard Park Road.
I knew I was going to get some classic hot sauce, but the menu was somewhat intimidating. There was a warning that "Medium is Hot! Medium Hot is Very Hot! Hot is Very Very Hot!" and as someone who likes it hot, I was confused. Because of this I went for 10 Medium Hot and 10 Spicy BBQ as a buffer flavor in case things got too rough.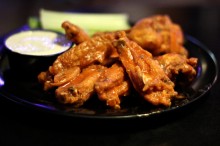 It turned out my fears were somewhat unwarranted. Medium Hot was not as hot as billed, although it certainly had a bite. I could have handled a bit hotter, but most importantly the Medium Hot had great flavor. It was a delicious combination of spicy and buttery to go with well-fried wings. Yet, the chicken itself was a bit disappointing. These weren't nearly as meaty as other wings I have had in the area and while the sauce was the best, I expected better from the meat.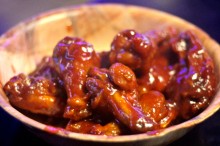 As for the buffer wings, I liked the Spicy BBQ. The sauce also had a nice kick, but not as much as the Medium Hot. Somehow the sweetness of the BBQ sauce and the heat of the spice combined for a nice change from regular hot sauce. As with the other wings, the meat left a bit to be desired, but the sauce did its best to overcome that weakness.
In a battle of sauces, Duff's is the clear winner of Western New York chicken wings so far. But in the battle of meats, I have to say Duff's could stand to improve. After all, it has a reputation to uphold.