Even Buffalo has succumbed to the nation-wide food truck craze, one of these going by the name of Lloyd Taco Truck. In fact, this truck seems to be so successful that it has spawned a fleet that even reaches sunny East Aurora. With high expectations, I once again set out far away from the land of Mexico to eat some Mexican food. What I found was a big green truck and a menu that sported some good-looking food if not authentic-looking.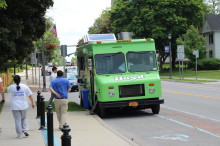 I decided to order two tacos, one with braised beef and the other with grilled chicken. Each came on a corn tortilla, topped with jack cheddar cheese, chimi sauce, roja sauce, cilantro and lime, plus shredded cabbage that I asked to be left behind. They turned out quite tasty, despite being more American than Mexican. And with a little shift in expectations, I actually enjoyed them.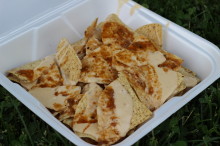 On top of that I had myself a side of nachos, which came topped with "lloyd" queso and roja sauce. These were different from the Tricked Out Nachos, but still pretty sizable. The only thing disappointing about them was the chips themselves, which seemed to have come straight from a bag. I expected better, and I know better chips are available around here because they manage to get them at my office.
Again, with updated expectations Lloyd Taco Truck is a pretty truck to follow. I'm confident I'll be back if they make their way to East Aurora again, and I'm looking forward to trying out one of their burritos next time.