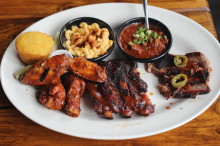 Buffalo might have a few specialty foods, but BBQ is not one of them. In fact, one of their supposed best spots isn't even home grown, coming in from world famous BBQ hotspot Rochester. It's called Dinosaur Bar-B-Que and despite having absolutely no actual dinosaur on the menu (what the hell?!), the little paleontologist inside of me was still eager to find out how good it was.
I was surprised to find that the place was a little commercial looking. Unlike places like Wilson's in Pittsburgh, this seemed more like a place looking for Famous Dave's-style growth. But if you've been reading this long enough, you know that looks don't mean a thing to my eating. I don't care if the place is falling apart or looks like palace as long as the food is delicious.
And the food did look delicious. So delicious, in fact, that I had to order a combo plate to try out a few things. There was much talk from the waitress about 12-hour smokes, not frying their wings and whatnot, but when it came down to it I chose what felt right. I opted for their St. Louis Ribs, BBQ Brisket and BBQ Wings. On top of that, the plate came with cornbread and two sides; I picked the Mac & Cheese and A.K. Chili (as in ass-kicking and not A.K. Agikamik). Each one of these choices would prove to be wise.
To begin with, the BBQ wings were surprisingly delicious. I did not expect this from a BBQ place because chicken is often an afterthought thrown in to placate lesser eaters. These, though, fell right off the bone and into my mouth as though they were just meant to be there. The ribs were similar in their fall-off-the-bone-ness. They had a tasty, smoky other rub to them and were only slightly sauced, giving the eater the opportunity to add more. I am happy to say that this eater reached for more sauce, specifically their Hot BBQ (which wasn't very hot) because there wasn't much heat in their regular sauce. I also did this for the wings and brisket to bring out more of their flavor.
And speaking of brisket, this was certainly the most disappointing of the threesome. It was nice and flavorful, having spent a good deal of time in the smoker, but was surprisingly dry. This mistake could be slightly remedied with additional BBQ sauce, but it was not enough to save this from being my least-favorite part of the combo.
As for the sides, the mac made for a good side, but wasn't good enough to stand on its own. The chili was in a similar situation, although I could see it doing well as a topping (like on a hot dog) in addition to a side, but again not powerful enough to be on its own. Smartly, Dinosaur Bar-B-Que was fully aware of this and neither of these items appeared beyond the Sides section. Finally, the cornbread was quite good. It wasn't so buttery that it melted in my mouth, but was moist enough that it held together nicely without crumbling.
Dinosaur Bar-B-Que definitely lived up to some of its hype. The wings and ribs were winners, and I would be sure to get them again. On the other hand, I would have loved for the place to have come through on the little things as well. Especially the part where there weren't any pterodactyl wings or triceratops ribs with dilophosaurus sauce on the menu…