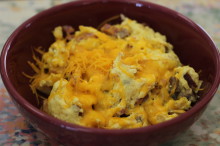 Breakfast is definitely a meal for bowls. Cereal, yogurt and oatmeal all call for bowls or bowl-like conduits. The Breakfast Club in Commerce, Michigan, though, is breaking that mold just like its namesake movie broke the mold of teen movies in the '80s. You see, they offer savory breakfast bowls and I just couldn't wait to get one for myself.
And the bowl of my choice was called Meat Lovers because it came filled with ham, bacon, sausage, scrambled eggs, cheddar and potatoes. This was a wise choice and a perfect unvegan choice because while meat is obviously awesome, potatoes, eggs and cheese go awesome with that awesome. The result was delicious, and even moreso with a touch of hot sauce added for some extra kick.
And perhaps even cooler than putting a savory spin on breakfast bowls is that The Breakfast Club sends out chocolate covered strawberries with the bill, kind of like how Chinese restaurants send out fortune cookies. It was a nice touch, and a nice finish to a pretty good breakfast stop.