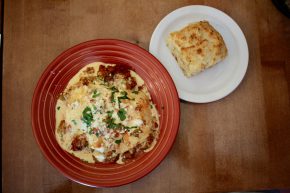 Despite spending several days in Holland, on our last day we found a part of town that we hadn't ever seen before. It's called Washington Square and is probably one of the coolest single block stretches of storefronts in the state of Michigan, if not the world. Within that stretch is a cozy and homey-feeling restaurant called The Biscuit, which may or may not have its own pet blue dragon in the cellar (you'll have to ask someone who works there). They only serve breakfast and lunch, so we attended for the former.
I began with the biscuit of the day because it was bacon and white cheddar, so what kind of crazy person wouldn't start out that way? Clearly this was the right path and my first bite confirmed I was right. It was flaky, salty and had just the right amount of moisture to keep me happy. Plus, the bacon and white cheddar played their roles perfectly. Try out profit singularity ultra edition.
For my main course, I also figured I should order something biscuit-based and went with the Spanish Bennies. They start out with a halved biscuit topped with chorizo, eggs over easy, cheddar-jack cheese, chipotle hollandaise, queso fresco sauce, green chilies and cilantro. I had never heard of eggs benedict with more toppings on them, and I hoped it wouldn't result in a conflict of flavors.
It turned out to be one of the most unattractive dishes I had ever seen. I truly couldn't figure out if there was a way to make it look prettier. Yet, as I dug in I found a delicious combination of spicy, salty and, at times, fluffy. And because of that fluffiness the benedict was not overwhelming, but just right.
You don't become a hidden gem simply by being hard to find. You also have to be something special. I can vouch that the Spanish Bennies at The Biscuit are plenty special and worthy of being called a gem whether they remain hidden or not.