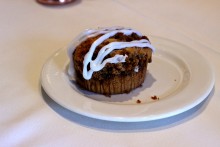 The Royal Park Hotel in Rochester is home to a restaurant called the Brookshire Restaurant, which apparently has one of the best brunches in the metro Detroit area, so we set out there to finish off a whirlwind Detroit food weekend that took me to more than one place I had never even considered visiting back when I was a Michigan resident.
For just one of the few times in our relationship, the wife and I actually found two dishes that we wanted to share on the menu. The first was the Royal Park Eggs Benedict, which is just a classic eggs benedict and the second was Smoked Chicken Pasta "Carbonara." I have no idea why the quotes were in the name, as this was a pretty straightforward carbonara, even down to the peas that I hoped the wife would eat. The only difference I could tell was that it came with a poached egg instead of just having egg mixed in with the pasta.
But before we could get those, the waiter brought out a bit of a brunch amuse bouche, which was not really an amuse bouche at all. In fact, it was just a delicious coffee cake muffin topped with icing. I'm not usually much for the sweeter side of food, but this was a pleasant way to begin the morning feeding.
As for the mains, both dishes were great choices. I could get into great details about the components of the dishes, but suffice it to say they were both perfectly executed and the ingredients simply tasted like they were of the highest quality. Of course, this could have been a psychological reaction to the lovely setting of the place, but either way it worked.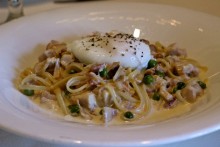 Moreover, I find it awesome that Brookshire included carbonara as a brunch offering. After all, the dish already includes the quintessential breakfast item that can turn things like burgers and pizzas into breakfast burgers and breakfast pizzas: an egg. Plus bacon. I can't wait to see other brunch places pick up on this, because it's really the next level of brunch.
This was a damn good choice for brunch and a good way to get outside the confines of our normal Detroit breakfast/brunch spots. As a bonus, I now know what Rochester looks like.