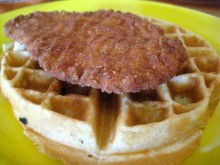 For some brunch before my annual photo shoot with my grandparents, we headed to Zoe's House of Pancakes in West Bloomfield, Michigan. Zoe's didn't exist before I moved out west, so going here wasn't exactly a trip down memory lane, but I was glad to see a new business doing pretty well. Even on a Monday for brunch, they had a pretty good number of people, so I assumed they would have some pretty great food. I took a look at the menu and found some of the most inspiring breakfast food I've seen in a long time, with everything hovering around the $5 price range. They had tons of different pancake varieties, including one enticing option called the Fruit Explosion. Despite pancakes being the namesake of the place, my eyes drifted to the waffles section.
Two waffles specifically caught my eye. One was the Bacon Waffle, which was a Belgian waffle cooked with homemade bacon bits. For some reason, that didn't seem meaty enough for me. Instead, I found they had Chicken and Waffle. I didn't know this dish existed north of the Mason-Dixon Line (ok, that might be a lie because I had it in San Francisco), and here I was about as north as you can get without being in Canada, ready to order some Chicken and Waffle. My grandparents looked at me in disgust, but I ordered and eagerly awaited Michigan's version of Chicken and Waffle.
When my food came out, it looked great. Resting upon one big Belgian waffle, was a heaping deep-fried breast of chicken. I spread a little butter over the breast and waffle, then poured on a comfortable dose of syrup. The result was beautiful looking, but it had to stand up to the taste test. And it did. The Belgian waffle on its own was really good. The batter was fluffy, crispy, and had just the right amount of sweet. The fried chicken tasted good too. Although the batter it was fried in was pretty generic, it had a good amount of saltiness to counter the sweetness of the syrup and waffle. It was also boneless, which is a big improvement upon Roscoe's bone-in chicken. I understand that bones add flavor, but when you're dumping syrup on chicken, I don't really think the flavor is noticeable. Plus, no one wants to waste time picking bones out of a breakfast.
So to sum it all up, Zoe's made a pretty tasty Chicken and Waffle. The waffle would have been great just on its own and while the chicken wasn't some Southern-fried family secret, it did a pretty good job at making my unvegan stomach happy.