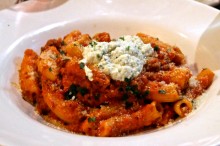 Point Breeze basically has two restaurants. One is Point Brugge, which was eloquently reviewed recently on this site, and the other is Pino's, a classy Italian joint basically across the street. In truth, I knew nothing about Pino's before walking in, but by the time I left I was looking forward to more. You see, when it comes to pasta, I kind of have a thing where I feel like a jar of Classico and some dry pasta is just as good as many restaurants. Pino's, however, was not one of these restaurants.
I ended up ordering their Rigatoni, which was served in a lamb bolognese sauce with seasoned ricotta. The result was pretty fantastic. The thick rigatoni noodles were cooked perfectly and their texture somehow fit perfectly with the flavor of lamb. Although there is always room for more meat, the sauce was sufficiently meaty and the ricotta cheese was certainly a nice touch.
Perhaps even more amazing than how good my meal was, was the fact that everyone I ate with left with a happy and full belly. That's not something easy to do, but Pino's made it happen and I am looking forward to getting back soon.