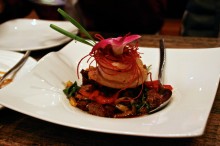 What do you do when you're stuck in San Francisco's Financial District late at night and looking for an actual meal? I sure as hell didn't know the answer, but my friends guided me to Osha Thai, a place that apparently has multiple locations, but the one we went to was ready and willing to take in a sizable crew. After a lengthy debate about what to eat, who wanted to be a part of the family-style and how I was going to get my share of meat, we made our order.
T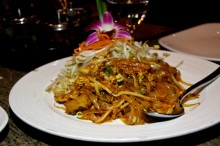 hat order turned out to be Volcanic Beef, Pad Thai, Panang Curry, Crab Fried Rice and a crazy dessert. The short story is that it was all delicious. The long story is this:
The Volcanic Beef was steak, onion rings, basil, black pepper and lava sauce. Of course, the sauce wasn't real lava but it definitely had a good kick to it. The beef was cubic, tender and flavorful…just like a volcano. The Pad Thai was…well…Pad Thai. It is what it is. And in this case my friends went with tofu as the protein, so I kind of avoided it.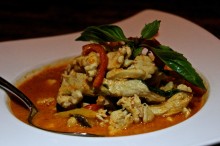 The Panang Curry was a big hit for the crowd in my seat (aka me). It was just the right amount of spicy for a white person, which meant that it may have even made a Thai person feel some of a kick. Maybe not a big kick, but still something. The Crab Fried Rice was also a winner in that this dish was made with real crab. And I don't just mean it wasn't imitation crab, I mean there were literally claws in the rice that had to be cracked open to rip the delicious invertebrate flesh out.
And of course there was the dessert. I truly wish I lived in a world where I was a responsible enough food blogger to remember the name, but I chose to rely on the Osha Thai menu online and it completely failed me. But I can say that it was good and if you get a chance to go, just show them my picture and ask them to make it. How could they say no to that?
Osha Thai turned out to be a pretty tasty meal. I can't say it was the best Thai I've ever had, but I was impressed by the interesting twists that made it more than just your average upscale ethnic eatery. There's a good reason the place is all over San Francisco.