The Twin Cities may have a few claims to their name, but none so big as the Jucy Lucy. This burger stuffed with cheese may have originated at Matt's Bar, but many other Lucy spots have grown from there and tried to make improvements to an already incredible creation. Despite my desire's to visit Matt's Bar, I was convinced by a lawyer (typical) to head to Blue Door instead, as Blue Door is one of those places that supposedly took the Jucy Lucy to the next level.
The idea behind Blue Door is fancier cheeses than American cheese and some different toppings. They also call them Blucys, either from the name of the restaurant or from the fact that they love blue cheese. Or both. Alas, for my Blucy I picked The Merriam Park, named for the neighborhood in St. Paul that Blue Door hangs in. This guy was stuffed with bacon, blue cheese and garlic, then topped with red currant jelly. For my side I chose tater tots.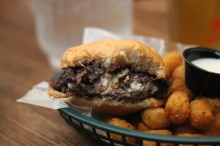 The result was a snazzy-looking burger with blue cheese doing its best to escape from the confines of meat. If nothing else, this at least meant the seal was already broken and I wouldn't have to bite into an explosion of molten cheese. As a lover of all things stuffed within this burger, I was certainly a fan. While the garlic flavor didn't really stick out, everything else did and it was all tasty. The tots were a nice addition, but tasted just like any good tots anywhere.
Having not eaten the original Jucy Lucy at Matt's Bar, it is hard to make a comparison, but it is nice to know that there is a future for Jucy Lucys beyond the confines of a dive bar in Minneapolis.