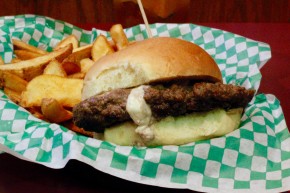 In the grand scheme of the genius of humanity, the Juicy Lucy (a burger stuffed with cheese) must fall somewhere on the spectrum of wonder and destruction as the atomic bomb. Unlike the atomic bomb, however, there can never be too many and there is a bit of confusion about who invented the thing. I already reviewed Matt's Bar, which spells it without the "i" and with a recent visit to Minneapolis I decided I had to try the 5-8 Club, the other claimant to the origin.
After a chat with my waitress, I opted to get my Juicy Lucy stuffed with Amablu blue cheese (unlike Matt's Bar, the 5-8 Club has more than one option) and without pickles on top. The waitress recommended fried onion strings on top and I took her up on that, then upgraded my fries to jojos (potato wedges).
The burger took a surprisingly long time to arrive and then my waitress disappeared before I had the chance to let her know the onion strings were missing. Nonetheless, I pressed on and did my best not to scald my mouth with the molten cheese. I found the cheese to be nicely distributed as far as such burgers go, but the beef itself was utterly lacking in flavor. It was almost as if the place relied on the cheese to carry the burger and unfortunately it couldn't. Couple that with the fact that such a burger needs to be cooked all the way through and this was a recipe for disappointment.
The jojos were a nice addition and had been cooked to a soft brown on the outside and an even softer inside.
Truthfully, the 5-8 Club's Juicy Lucy can hardly be labeled bad. If it was my first, I likely would have left impressed. But having taken down Blue Door and Matt's Bar in the past, the 5-8 Club just couldn't hold up. It sure is pretty though!